Scottish Trade and Innovation Minister Richard Lochhead this week visited the Port of Cromarty Firth (PoCF) at Invergordon.
During the visit, the minister was given a briefing on the latest progress being made in establishing the new Inverness and Cromarty Firth Green Freeport (ICFGF).
Mr Lochhead met Calum MacPherson, who on Monday took up the post of ICFGF Chief Executive, along with PoCF Chief Executive, Bob Buskie, and the organisation's Strategic Business Development Manager, Joanne Allday.
The minister also toured facilities at the Port, where some of the XXL monopile foundations for the Moray West offshore wind farm are currently being marshalled.
Mr Lochhead said: "It was encouraging to hear more about plans for Inverness and Cromarty Firth Green Freeport.
"This aims to attract trade, develop businesses and promote regeneration, and to boost the economy in the Highlands and in Scotland more widely.
"The Green Freeport is well placed to make the most of the opportunities that come from the just transition to a net zero economy."
Mr Buskie said: "It was a great pleasure to welcome the minister to Invergordon today and we appreciate him taking the time to come to the Port.
"His visit gave us the opportunity to show him at first hand the variety of work that is currently going on here and to discuss future developments.
"It also enabled us to fully brief him on the huge amount of activity that has been going on behind the scenes since Inverness and the Cromarty Firth was announced as the location of one of Scotland's two new Green Freeports earlier this year."
PoCF's new Quay West facility is being used for marshalling for the Moray West offshore wind farm project.
Pete Geddes, Project Director for the Moray West offshore wind farm, said: "We've been delighted to welcome Richard Lochhead MSP to our monopile marshalling site at Invergordon port.
"We were able to convey the sheer scale of the foundations by getting up close, with 16 of the total of 62 having been safely unloaded at the port.
"The investment in the port has been supported by our earlier project, Moray East, and now Moray West. We look forward to successfully installing the monopiles from Invergordon, benefitting from the new laydown area and deep-water quayside.
"Having worked with Scottish Government agencies to facilitate the port expansion we remain engaged with government to ensure future offshore wind projects, including the Ocean Winds projects, can be delivered promptly and expand the benefits for Scotland including further ports expansion."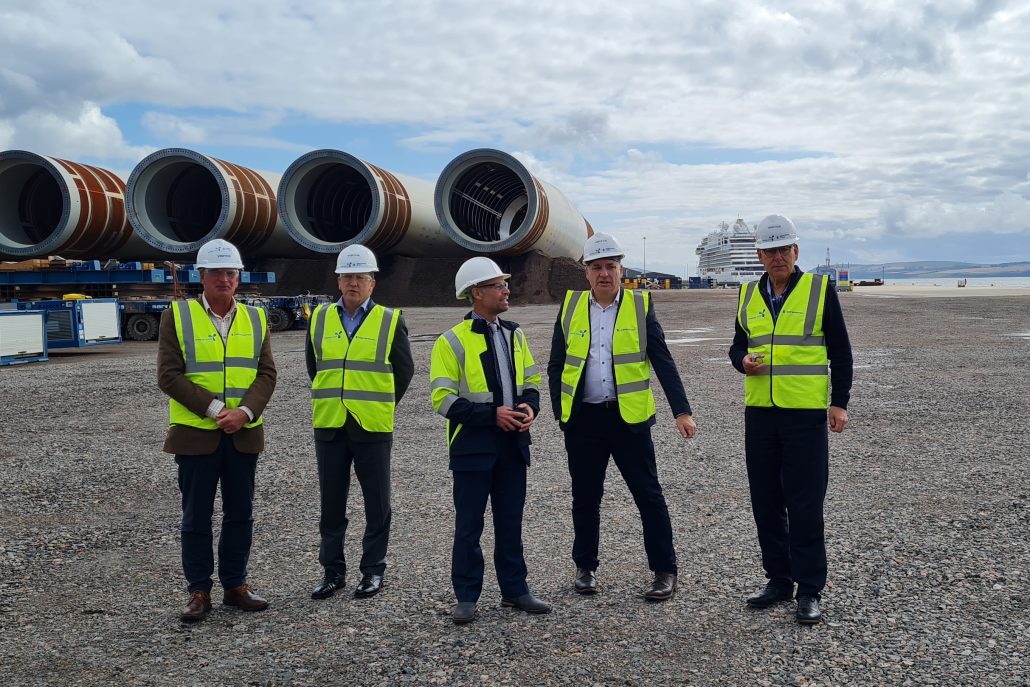 https://greenfreeport.scot/wp-content/uploads/2023/08/010723POCF-002-scaled.jpg
1707
2560
Kirstin Gault
https://opportunitycromartyfirth.co.uk/wp-content/uploads/2023/03/Green-Freeport-Logo-small.png
Kirstin Gault
2023-08-02 12:19:45
2023-08-02 12:24:23
Minister briefed on Green Freeport progress during visit to Port of Cromarty Firth